The Larissa Post-Surgical Bra and the Serena Bra feature adjustable bands to help customize your fit. However, if you are larger chested, we recommend that you order a size larger for comfort. If you border between two sizes, we recommend that you order the larger size. And remember—always be sure to try on your bra before surgery with the tags still on in case you need to exchange it.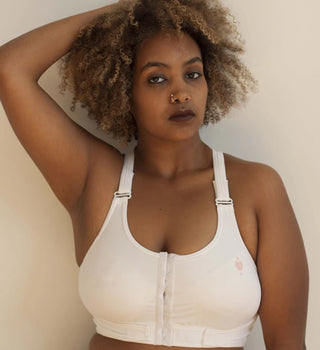 Larissa and Serena Bra Measurements in Inches
X-Small (Band 28") measures 11″ when hooked and laid flat
Small (Band 30"–32") measures 12″ when hooked and laid flat
Medium (Band 32"–34") measures 13″ when hooked and laid flat
Large (Band 36"–38") measures 14″ when hooked and laid flat
X-Large (Band 40"–42") measures 15.5″ when hooked and laid flat
XX-Large (Band 44"–48") measures 16.5″ when hooked and laid flat
Queen (Band 50"–54") measures 17″ when hooked and laid flat
Super Queen (Band 56"–60") measures 18″ when hooked and laid flat
Bonita Post-Surgical Bra Measurements in Inches
Measuring for Band Size
Measure around the rib cage just beneath the breast. Keep the tape snug and straight around the back. Bands run conservative in size—see note below. Suggested band size based on back measurements:
For 29″-32″ we suggest a 34 band
For 33″-34″ we suggest a 36 band
For 35″-39″ we suggest a 38 band
For 39″-41″ we suggest a 40 band
For 42″-43″ we suggest a 42 band
Measuring for Cup Size
To find cup size, measure gently around the body across the high point or fullest point of the bust line while wearing a bra. Subtract the band size from the cup measurement just taken. This difference will help you find the right cup size:
3″ larger indicates C cup
4″ larger indicates D cup
5″ larger indicates DD cup
Measuring with Existing Bra in Inches
You can also use your everyday bra as a guide. Fasten your bra on the hook you wear it and lay it flat. Measure that length across and compare it with heart&core band measurements to get a true fit:
Our 34 band measures 12″ when flat
Our 36 band measures 13″ when flat
Our 38 band measures 14″ when flat
Our 40 band measures 15″ when flat
Our 42 band measures 16″ when flat
PLEASE NOTE: Due to the fact that our band sizes run tighter and the potential for swelling after surgery, we recommend patients order one to two band sizes larger than normal.
PLEASE NOTE:Due to the fact that our band sizes run tighter and the potential for swelling after surgery, we recommend patients order one to two band sizes larger than normal