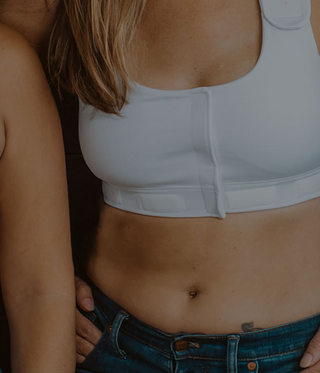 Get Comfortable
with incredibly soft bras. Get yours now!
Our Story
Like many of you, breast cancer has touched us personally, affecting many near and dear people in our lives. But it was our mom's experience with breast cancer that inspired us to stand up and find a way to support others on their journey.
What's My Size?
We're passionate about helping you find the perfect fit. Watch our video and view our measurement charts to determine your size in the Larissa Post-Surgical Bra and the Serena Bra. All our bras feature adjustable bands, but be sure to read our tips for ordering the best bra for you. And remember—always be sure to try on your bra before surgery with the tags still on in case you need to exchange it.
Why Choose Heart & Core
We Care For You
We are committed to making bras that make your journey more comfortable and to serving as a resource for all of your concerns.
Quality Products
We're passionate about design because we know even the smallest details, done just right, can make the biggest difference in recovery.
Excellent Customer Support
We are here to help with sizing and always listening to feedback so we can make the best possible products.
What Our Customers Are Saying
"My mom had open heart surgery and she loves the Larissa Bra! It's super comfy, breathable and soft. Easy to put on and has nice compression. Best company to deal with, they actually answer the phone and care about you and your recovery. We now own 2 of these and will be suggesting them to anyone who needs breast, heart or lung surgery. We didn't have a drainage bulb, but the holder seems nice/secure."
– Rachel
"Surgery on the breast is a challenging by its nature, yet recovery from it can be less so. Managing dressings, drains or protecting some areas can be quite straightforward. Using tape to hold a dressing irritates the skin quickly. Using an ace wrap is tedious and it often slips in minutes after application with even limited activity by the patient. The drains are awkward and need something to hold and protect them. So what is the answer? An easy-to-wear post-surgery bra. In the case of my patients who need a specialized bra, I simply send them to heart&core ahead of the surgery, and life for my patients (and for me) gets much easier. I am glad that they have done their homework."
– Pawel Stachowicz, MD, Board Certified Plastic and Reconstructive Surgeon, Authentic Plastic Surgery, LLC
"I loved the Bonita Bra after my breast reduction. It felt so much softer and more comfortable than the bra I came home in from surgery. It was easy to get on and off. It was just the right amount of support after the surgery. It was comfortable to wear during the day and sleep in!"
– Kylie, Breast Reduction Patient
"I love seeing my patients on their next visit after I have given them these bras. They are so excited and grateful for a bra of this quality and one that offers so much comfort. I love seeing my patients smile. Who would've thought a bra could ever do that!"
– Wendie L. Snyder, RN, Clinic Nurse Supervisor for Plastic/Cosmetic Surgery, Geisinger Medical Center
"The Larissa Bra is a must have when recovering from a mastectomy. It offers comfortable compression and a place for the surgical drains."
– Amazon Customer
"The Bonita Bra was great after surgery because it was easy for me to use on my own without having to lift my hands over my head. The main thing that made it so great was how supportive and comfortable it was to sleep in. Most other bras I would worry that I wasn't being held properly in place and there wasn't any cup support at all. This bra is so unique because it has the same support that a bra with an underwire has and it's so soft and comfortable you barely know it's even on. I would recommend it to any woman undergoing a procedure and know you will be just as fully satisfied and happy as I am with it. I still wear it now once in a while when I feel like I need some extra support and can't wait to try the regular sports bras!"
– Alana, Breast Augmentation Patient
"The Bonita Bra worked so well after open heart surgery – well worth the price – Highly recommended."
– Josiane, Heart Surgery Patient
"The Bonita Bra was just what I needed after my surgery! Fit well, I could even put gauze/pads under and still feel comfortable!"
– Amazon Customer
"Aesthetically, the Larissa Bra made me feel confident in my clothes. The pads in the post surgical bra created balance where I was lacking. Also, the four tabs of Velcro allowed me to secure my drainage bulb strategically to reduce bulge underneath my clothing. Technically, I could not imagine not having this bra during post-op. It kept my breasts secure. I hurt terribly when I felt any bump while riding in the car, and this post op bra minimized the pain."
– Tyechia, Breast Cancer Surgery Patient
"Bought the Bonita Bra for my future mother in-law after her open heart surgery and it has helped so much with easing her sternum pain. Can't say enough for this product was a blessing for her and I'm so glad I bought it."
– Lorie
"The Bonita Bra is awesome! It compresses and holds everything in place, keeping the drainage bulbs properly attached, without rubbing or hurting the side where I have my drains and had lymph nodes removed."
– Audra, Single Mastectomy Patient
"The Larissa Bra was better than the one given after a recent double mastectomy. The ONLY issue for me, being a petite person, is that the straps do not go short enough and the center section is too wide. The racer back is very comfortable, the Velcro front closure is very strong as are the drain loops."
– Mary, Double Mastectomy Patient
"The Bonita Bra gave me much needed support following VATs surgery… well worth the $$."
– Ruthann, Video-Assisted Thoracoscopic Surgery Patient
"The Bonita Bra is very comfortable. Has really helped me post open heart surgery. If you are getting this for sternum stability however do not be a goof like me and put it on while chest tubes are still in! Once the hardware is out…this is awesome."
– T. Norton
"The Bonita Bra held breast up so incision does not hurt after open heart surgery."
– Amazon Customer
"Very comfortable, good fit, just what I needed after breast surgery. Little pocket inside perfect for ice pack."
– Helen C.
"I had my reconstruction on both sides redone ( yes ladies after enough yrs most times it needs to be done). This is my fourth surgery on both sides so I think I can give a very candid and experienced review. This bra is very true to size so that helps immensely when having to order specially bras. Also there are two size tabs w/ velcro to make small adjustments to the band. Very good compression factor, very comfortable without being too bulk under clothing. Easy bra to wear 24/7 if need be while recovering. Well worth the cost for the value. Great for after reconstructive revisions or initial reconstructive surgeries."
– CR